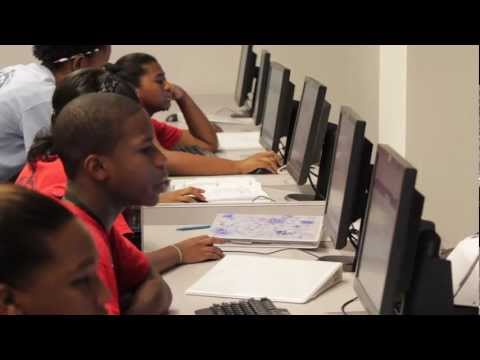 A growing program rooted in the community
UNIQUE TO THE NORTHEASTERN OHIO AFFILIATE, The Academy Program is a community-based program serving middle-school and  students from both Cuyahoga and Summit counties. Formed in 2007, The Academy Program is a community-based program that provides long-term, year-round academic enrichment opportunities for academically motivated students (6-12 grades) enrolled in under resourced schools. By engaging in the core learning opportunities of the Academy Program over a seven-year period of service which includes critical milestones on the cradle to career continuum, our Scholars develop the academic ability, maturity, and self-esteem needed to prepare themselves for college and career success.
From the summer before their sixth grade year through high school graduation, our Scholars (Community-Based and Residential alike) engage in our comprehensive year-round Academy Program. Scholars receive opportunities to reach their full potential through an intensive academic enrichment summer program with individualized follow-up throughout the school year. In collaboration with the schools, parents, and scholars, the Academy Program focuses on the needs of the whole child.
The Road to College
Scholars who successfully complete the Hope Prep middle school program will be invited to continue their progress by participating in the college road initiative. This program provides individualized college counseling and career planning throughout high school. Upon successful completion, scholars are awarded a "college Launch" scholarship to assist with the purchasing of first year supplies (text books, laptops, etc.)
Measured Objectives
Provide academic enrichment

Provide opportunities to experience new and exciting things

Improve study skills

Learn effective communication (written and oral)

Gain ability to collaborate and be flexible

Develop critical thinking and problem solving skills

Enhance global awareness

Improve upon and gain positive habits

Develop leadership and character

Develop and understand a personal "blueprint" for success

Create a personalized learning portfolio and success plan